WIPE HARD DRIVES SECURELY TO KEEP YOUR DATA SAFE
Clarabyte Enterprise Solutions allow corporations and entities to securely and permanently erase all data from hard drives, external storage drives, and mobile devices.
Our cost-effective tools improve security and sustainability for managing hardware.
Clarabyte is setting new industry standards for data SANITIZATION.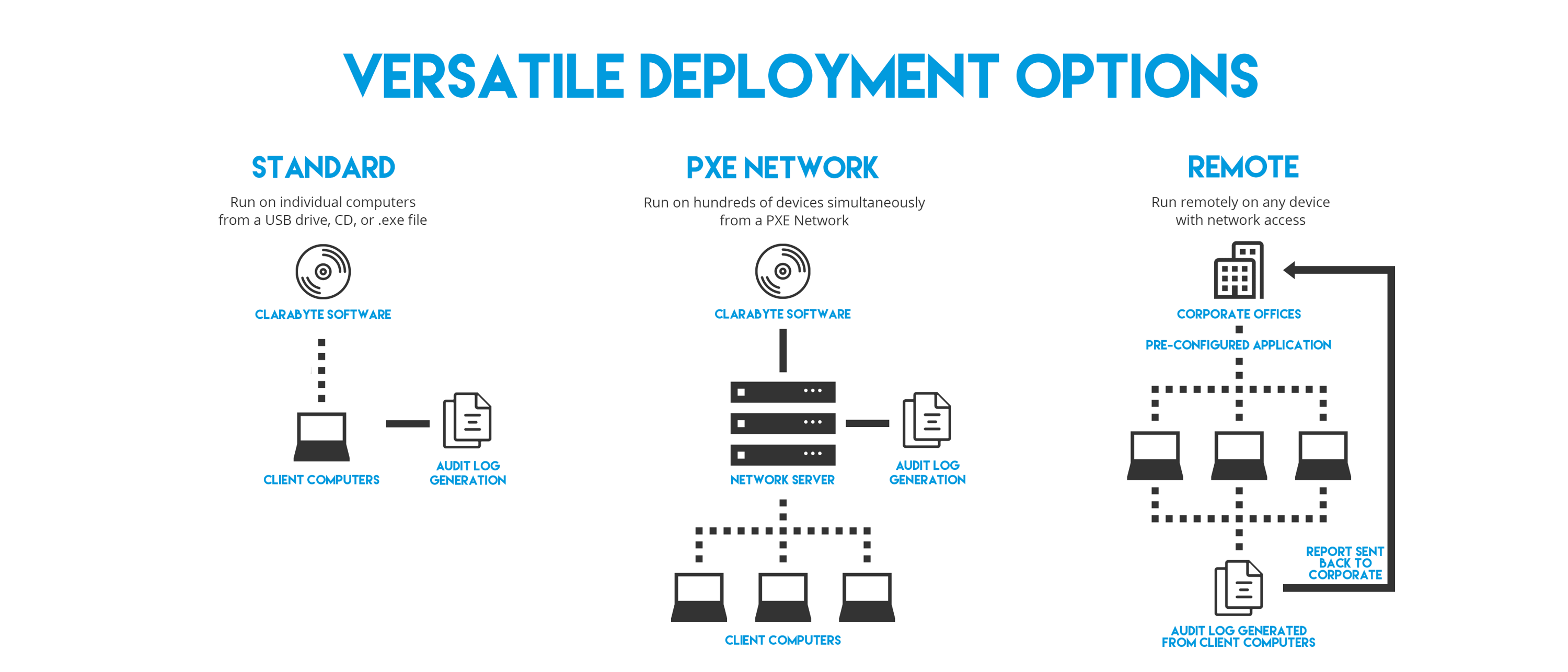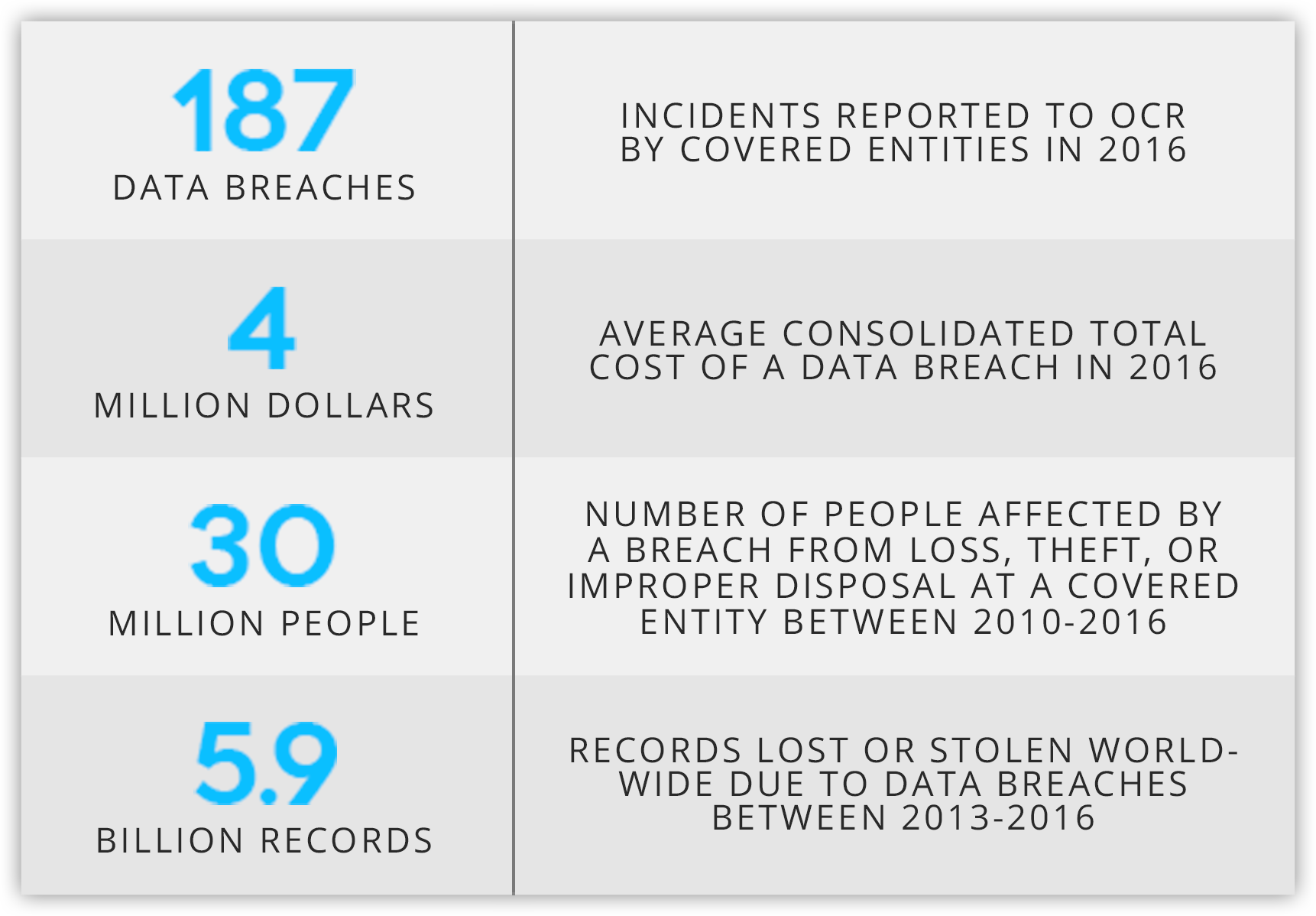 The average data breach can cost an enterprise more than $4 million on top of a damaged reputation, customer loss, and severe consequences to executives.
CLARABYTE VS. PHYSICAL DESTRUCTION
Clarabyte software is more secure, cost-effective, and environmentally conscious.
Our wiping technology is so effective that you can reuse devices within your organization, or resell them to recover value for your bottom line, with no risk. Emphasize the most eco-friendly form of recycling: reuse.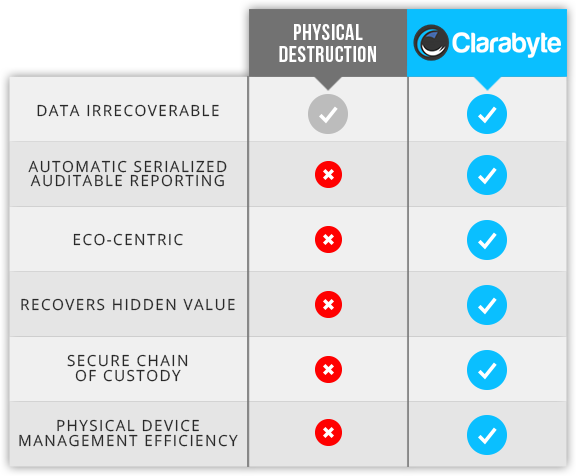 CERTIFIED DATA ERASURE IS THE ASSURANCE YOUR ORGANIZATION NEEDS
ClaraWipe Pro is built for the enterprise and exceeds industry and international standards for secure data destruction. Boasting cross platform compatibility, ease of use and unparalleled operational efficiency, it's the complete solution for removing all sensitive information in totality.
Build a secure data destruction process in just 5 minutes.
How Can I Use ClaraWipe Enterprise?
Manage the end-of-life cycle for your corporate devices.
Support the community and the environment, and increase your bottom line by emphasizing reuse, the highest form of recycling.
Safely donate end-of-life hardware to charitable causes, or re-sell devices to recover value for your business, without the risk of compromising your data.
REMOVE THE DATA, REMOVE THE RISK
Deleting files manually only removes the pointers. Simple formatting still leaves fully recoverable data and traces of data. ClaraWipe completely removes all data, operating system and programs beyond recovery.  
ONE PRODUCT DOES IT ALL
With ClaraWipe Enterprise, one block of licenses gives you the ability to wipe all of your devices, without the need for different products. ClaraWipe will wipe desktops, laptops, servers, RAID configurations, and other storage media.
DETAILED AUDIT TRAIL
ClaraWipe produces detailed reports that can be customized to suit your needs. Track as much or as little detail as you need, and you can even add company-specific custom fields.
DON'T MEET STANDARDS, EXCEED THEM
ClaraWipe provides industry leading speed, functionality and secure data removal. Antiquated DoD limited solutions do not meet today's rigorous standard. ClaraWipe exceeds all major domestic and international regulatory and technical standards including:
HIPAA
Sarbanes-Oxley
FACTA standards
NIAP's EAL4+ security standard
U.S. Department of Defense 5220.22-M
CSEC ITSG-06
95% OF DATA BREACHES ARE RELATED TO THE CHAIN OF CUSTODY
ClaraWipe empowers companies to have secure data destruction completed before a device is even unplugged. By providing a simple, fast, efficient and logical user interface, the intuitive nature of ClaraWipe requires zero training, allowing anyone to adopt the
process at their work place. With drives being automatically detected before the computer boots, it removes the human error breakdown from physically removing drives from units, also removing issues that arise from computers with multiple hard drives and
storage locations.
COST SAVINGS
Using ClaraWipe is a fraction of the cost of physically destroying hard drives, and when combined with Clarabyte's resale tools, you can recover even more value for your bottom line. We will BEAT any existing solution not just on price, but also on quality, reliability,
and speed. It starts with creating a secure data management process, which we are happy to help your firm create.
NO HIDDEN COSTS
Straightforward pay-per-use licensing.
CROSS-PLATFORM COMPATABILITY
ClaraWipe supports the hardware you need on the platforms that run your business. Compatible with Windows, Mac, Linnux, or any x64 or x86 Architecture.
Flexible Deployment to Fit Your Organization's Needs
Whether you need to wipe an individual computer, multiple hard drives simultaneously, or even drives in remote locations, ClaraWipe has a solution for you. Wipe up to 100 drives simultaneously for maximum speed and efficiency.
USB Key
CD
PXE
EXE
Remote
CONVENIENCE
Additional licenses can be purchased easily online at any time. 24 hours a day, 7 days a week.
FREE EMAIL AND WEB SUPPORT
We fully stand behind our products and are always here to help.
See how simple it can be to protect your business and be in compliance.